Top 25+ Best Wedding Venues in Jaipur 2023 with Price
In this article, you will learn about the top 30 best Wedding Venues in jaipur for a perfect wedding. Have the majestic forts and palaces of Jaipur captured your heart since childhood? Now they could be the setting for your perfect wedding day! With the help of a wedding planner in Jaipur, you can easily find out a perfect wedding venue for you within your budget.
List of top 25+ Wedding Venues in Jaipur, Rajasthan, for A Stunning Ceremony
To make planning easier, We've compiled a list of the 25+ most picturesque wedding locations in Jaipur so you can have the most stunning ceremony of your life!
1. Taj Jai Mahal Palace - Beauty Has a New Name
Nestled amidst majestic Mughal gardens, this 260-year-old palace converted into a hotel is one of Jaipur's most romantic wedding locations. Indo-Saracenic architectural style and intricate detail in every corner create the ideal background to capture all your special moments during your big day. This luxury heritage hotel provides outdoor and indoor venues such as celebration lawns, poolside lawns, fountain lawns, Durbar Halls, and palace lawns, which can hold up to 3000 guests, making it one of Jaipur's premier wedding lawns.
Highlights: This 260-year-old palace offers luxurious suites and rooms close to Jaipur's station and airport. Location: Jacob Road, Civil Lines, Jaipur, Rajasthan
Nearby tourist attractions include Amber Palace and Hawa Mahal City Palace.
2. Pride Amber Vilas Resort - An Elegant Experience
Your wedding ceremony and how it unfolds are important to you, but your guests also deserve a memorable experience. At Pride Amber Vilas, they can enjoy a royal welcome like never before with its central lawn, entry lawn Haveli and banquet halls that can accommodate 3000 people. Moreover, guests can book stunning rooms and indulge in delicious food from both catering services and resort facilities. This place stands out among other venues for wedding ceremonies: it provides incredible places that ensure everyone involved enjoys a special moment always!
Highlights Of Amber Vilas Wedding Destination in Jaipur, Rajasthan, is one of the top wedding destinations. Here, guests are treated to royal treatment, including a luxurious spa experience.
3. ITC Rajputana in Jaipur
Are you drawn to luxury, and it captures your attention? Start the journey towards your new lifestyle at this five-star hotel in Jaipur. Every corner here exudes royal splendor, making it one of the top wedding venues in Jaipur; with room for over 400 guests plus on-site catering services for multi-cuisine meals, your hotel wedding will be special! It is top-of-the-line hospitality, and the stunning landscape makes this five-star venue even more than a perfect backdrop for an exquisite occasion!
Highlights: This centrally located hotel was designed in the style of old-fashioned havelis from Rajasthan.
Location: ITC Rajputana, Palace Road, Jaipur
Nearby attractions include Hawa Mahal, City Palace, and Amber Palace.
4. Chomu Palace - Redefining Royalty
Chomu Palace is one of Jaipur's top wedding venues, meticulously restored to its original splendor. Perfect for an elegant and classy celebration, Chomu Palace can accommodate up to 1,000 guests in its gardens and halls – making it a popular option for Jaipur ceremonies. Don't miss out on this stunning venue!
The Highlight It is one of Jaipur's most sought-after wedding venues, exuding class and elegance.
Location: District Jaipur, Chomu, Rajasthan
Nearby tourist attractions: Hawa Mahal, City Palace, and Amber Palace.
5. Fairmont Jaipur - Luxurious Yet Cultural
Fairmont Jaipur is undoubtedly the most luxurious hotel you can choose for your wedding destination in Jaipur. Offering modern decor combined with traditional Rajasthani traditions, its backdrop will be ideal for your ceremony as you enter the aisle. Whether it's a traditional or themed celebration, Fairmont Jaipur guarantees everything will be taken care of to make it one of your most unforgettable days!
This 5-star hotel has exquisite choices, such as the stunning Charbagh and Grand Ballroom, for your celebration.
Location: 2, Riico, Kukas, Jaipur, Rajasthan
Nearby attractions to visit: Jaigarh Fort and Sheesh Mahal
6. Samode Palace - An Exceptional Choice
At 475 years old, this palace is the ideal site for you to host your most romantic wedding. With stunning architecture that makes it one of Jaipur's most picturesque wedding locations, Samode Palace offers venues ranging from Darbar Hall to Mughal Gardens that perfectly fit any need or theme. With so many stunning venues for selection according to your specific requirements, this venue embodies romance at its finest!
Summary: Village Samode, Tehsil Chomu, Jaipur, Rajasthan, is renowned for its stunning wedding venues. Nearby tourist attractions such as Hawa Mahal, City Palace, and Amber Palace add to the elegance of your special day.
Established in 1970, Umaid Lake Palace is a stunning wedding venue in Jaipur that has hosted over 200 ceremonies. From intimate gatherings to grand ceremonies, Umaid Lake Palace provides the ideal setting for any celebration – from stunning ambiance and professional service to delicious food and clean facilities for an unforgettable occasion. If you're searching for an elegant venue to host your receptions, Umaid Lake Palace is sure to please.
Pricing
Minimum Charge per Plate (Veg) Rs 1,000

Minimum Charge per Plate (Non-Veg)

Rs 1,200
Payment Policy
50% of the cost must be paid upon booking.

50% Refundable Deposit on Event Day

A 50% Deposit due on event day depends upon availability.
Other Facilities
Electricity Back-up, Air-Conditioned, Restaurant, Conference Center, Spa, Wi-Fi, Airport Pick-up/Drop Service, Concierge Services, Pool, Parking (Vallet Parking Available), and Bridal Room can all be provided upon request.
8. Oberoi Rajvilas Palace - Beautiful Beyond Words
One of Jaipur's most popular wedding locations, Oberoi Rajvilas Palace exudes elegance and offers an elegant venue with sparkling water fountains, pools, and lush green lawns. For such a stunning venue like this, there's no need to search any further for other wedding venues in Jaipur! With such stunning grounds, you won't want to worry or search further for your special day!
Highlight: This luxurious resort is the ideal setting for an exciting wedding ceremony.
Location: Jagdish Colony, Paldi Meena, Jaipur, Rajasthan
Nearby attractions: Birla Temple and Albert Hall Museum.
9. Jaigarh Fort - At Its Cultural Best
Built by King Sawai Jai Singh of Jaipur in 1726, this fort is an ideal marriage venue for an elegant celebration. Still active today, the fort showcases the work of its rulers and offers stunning views of Jaipur dressed in pink. Additionally, various fort locations can accommodate ceremonies during your nuptials.
Highlights: Amber Fort is situated just outside Jaipur and easily connected by highway to the city center, making it a perfect location for an unforgettable Jaipur wedding.
Location: Above Amber Fort in Jaipur, Rajasthan
Nearby Attractions: Panna Meena Ka Kund
10. Rambagh Palace - Be More Romantic
Rambagh Palace Jaipur has long been a sought-after romantic wedding venue in Jaipur. This palace has become popular due to Sridevi and Anil Kapoor shooting "Lamhe" here, and Katy Perry and Russell Brand got engaged here! So if you're into celebrities and their wedding locations, Rambagh Palace could be just what you're searching for! This picturesque location makes an ideal venue for ceremonies!
Location: Bhawani Singh Rd, Rambagh, Jaipur, Rajasthan
Nearby tourist attractions: Birla Temple and Albert Hall Museum.
11. Alsisar Haveli - Simply Spectacular
Situated in the city center, this Haveli has been meticulously renovated and restored to its original grandeur. Exuding classic Rajput charm, it offers numerous options for hosting your dream wedding. Plan your perfect day, knowing this historical home will ensure an unforgettable celebration!
Highlights: With its stunning garden and meticulously kept fountains, this wedding location in Jaipur adds an air of grandeur to your special day. Address: Sansar Chandra Road, Jaipur, Rajasthan
Nearby tourist attractions: Raj Mandir Cinema and Hawa Mahal
12. Raj Palace - Experience Royalty
Looking for the ideal wedding in Jaipur's most luxurious hotels? Raj Palace is your answer. Guests are sure to be astounded by its striking architectural design and historic palace facilities, just as monarchs and queens used to enjoy during their processions. Raj Palace provides one of Jaipur's most stunning wedding locations.
Features: This spacious banquet area is ideal for pre-wedding celebrations.
Location: Amer Rd, Jorawar Singh Gate
Nearby attractions include the Jal Mahal, Amber Palace, and Sheesh Mahal.
13. Mansingh Palace - Royalty at its Best
Mansingh Palace, India's most popular wedding location, has been converted from an ancient building into a hotel. The team takes care of all the planning for you and ensures guests feel welcome upon arrival at the venue. If you're searching for traditional Indian hospitality with modern facilities and elegance, Mansingh Palace is your ideal spot.
Highlights: A grand banquet space that can accommodate many guests with a warm and welcoming staff
Location: Sansar Chandra Road, Lalpura Colony, Sindhi Camp
Nearby tourist attractions: Raj Mandir Cinema and Albert Hall Museum.
14. Jaipur Marriott: Simply Stunning
Jaipur Marriott is one of Jaipur's most stunning wedding venues, boasting two venues that can accommodate up to 1500 guests each. With such a vast area for ceremonies and receptions, Jaipur Marriott truly stands as an oasis in the city.
Highlights: Wedding planners, separate on-site kitchen, and two large halls.
Location: Near Ashram Marg and Jawahar Circle
Nearby Attractions: National Seashell Museum
15. Clarks, Amer - Fabulous Yet Subtle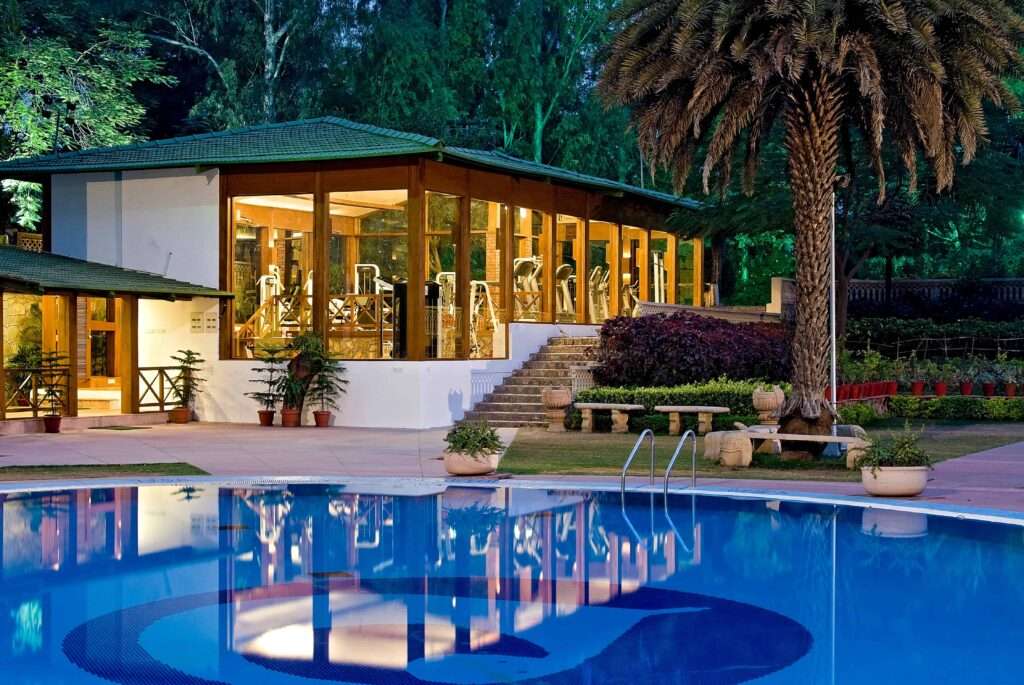 Clarks Amer is an incredible wedding venue with the friendliest staff you'll ever meet. Their two massive venues are ideal for a grand ceremony and reception – or you can just watch as everything runs seamlessly around you. Plus, their guest rooms are decorated according to the hosts' preferences. You won't want anything else during your stay!
Features: Personalize the gifts and other amenities provided to your guests
Location: Jawahar Lal Nehru Marg
Nearby attractions include Jawahar Circle Garden and Jawahar Circle Gate.
16. Gold Palace - Elegant Yet Budget Friendly
One of the distinguishing features of Gold Palace over other wedding venues in Jaipur is its lack of space restrictions. Couples seeking an exclusive venue for their ceremonies and celebrations can use this hotel-turned-palace nearby. You can have a different location for each ceremony and celebration. Set against an elegant mandap backdrop, its staff is highly experienced at managing such occasions – making this one of Jaipur's most stunning wedding locations!
Highlights: Large wedding lawns with no restrictions.
Location: 8th Mile, Jaipur Road
Nearby Attractions: Amber Palace
17. Shiv Vilas - Luxury Redefined
Shiv is truly remarkable and one of Jaipur's most affordable wedding locations. The venue boasts stunning interiors as well as expansive gardens. It is private and ideal for those seeking an elegant and private celebration. Furthermore, its white palace makes an idyllic backdrop to ceremony mandaps, while guests can stay in one of its cottages. Shiv is a wonderful spot to get married couples to enjoy an elegant destination Jaipur wedding at an affordable cost.
Highlights include privacy, expansive lawns, and lush gardens.
Location: Jaipur Delhi Highway, Kukas
Nearby tourist attractions include Jaigarh Fort and Sheesh Mahal.
18. Lalit: Luxurious Wedding Venue
Lalit is the ultimate luxury hotel located in Jaipur for weddings. With rooms that can accommodate up to 1500 guests and the Crystal Ballroom offering breathtaking views of columns-less beauty and expansive grasses, combined with its central courtyard featuring water fountains that create the ideal romantic ambiance, Lalit is sure to become your go-to choice for destination Jaipur weddings every day of the week.
Highlights: Spacious ballrooms to host all wedding events
Location: Jawahar Circle, near Jagatpura Rd
Nearby attractions like National Seashell Museum can be enjoyed.
19. Park Inn - Grandeur at its Best
This 4-star hotel is one of Jaipur's most affordable wedding locations, offering great services without breaking your budget. Park Inn is ideal for a peaceful atmosphere for your big day without too much noise. With great decor and amenities, this venue ranks among Jaipur's top wedding locations while remaining price competitive with other wedding places in Jaipur. With great freedom to decide what works best for you, planning this event won't be a problem anymore – making this venue one of Jaipur's premier venues at affordable prices!
Highlights: Budget-conscious
Locations: Sawai Jai Singh Hwy, Kanti Nagar, and Bani Park
Nearby tourist attractions include Raj Mandir Cinema.
20. Lebua Resort: All About Luxury
Looking for an affordable destination wedding in Jaipur? Lebua is your perfect option! Don't be fooled by its elegant decor and modern infrastructure – Lebua is one of Jaipur's most budget-friendly venues to host an event for your big day! Lebua offers an elegant combination of outdoor and indoor venues for wedding receptions and guests. It is renowned for its exceptional customer service and gracious hospitality – the ideal place to tie the knot in style and give your guests a royal experience! Your guests will surely have an unforgettable reception in the hotel's magnificent latticework lobby, followed by The Adya Banquet Hall wedding ceremonies. Enjoy delectable Rajasthani dishes during dinner at Vajra Restaurant or Chakra Bar – making this one of Jaipur's premier wedding places for couples looking to tie the knot abroad.
Location: Jamdoli, Tehsil Ballupura, Jaipur 302031, India (Agra Road)
Nearby tourist attractions: Amber Palace
Situated in Jaipur's luxurious suburbs, Tree House Resort provides a large banquet hall perfect for hosting weddings in various destinations. Being away from the busy city life makes this venue an ideal place to plan your special event, with its decorations, DJ, and catering staff taking care of any stress you may experience during planning. It has earned a reputation as one of Jaipur's top wedding locations.
Highlights of Tree House Resort Jaipur Nature Farms, NH11c Opp to Amity University Kalwad Kalan as well as Khurd, Rajasthan 303002, India
22. Lohagarh Fort Resort And Spa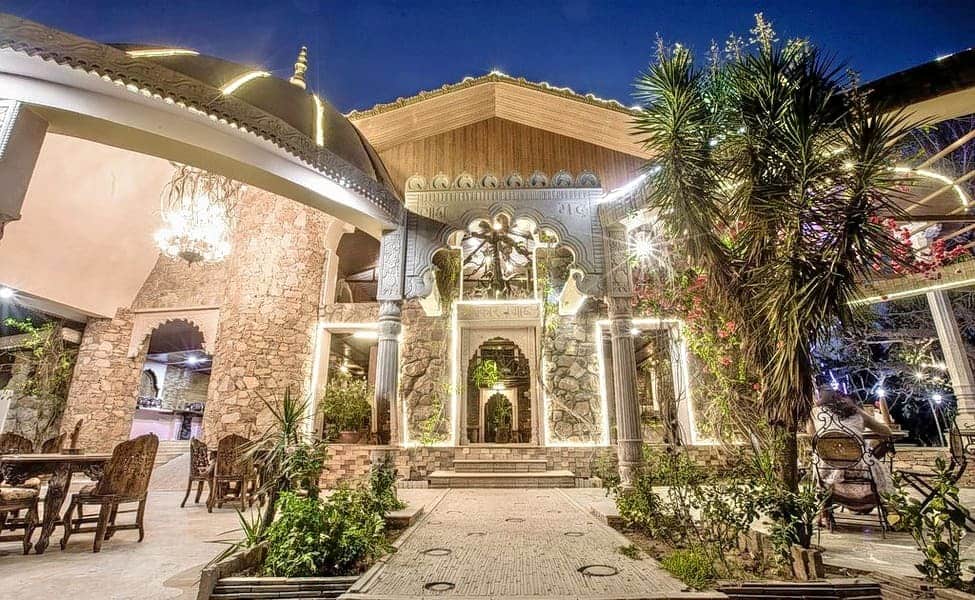 Situated on 12 acres, this Jaipur hotel provides 3 gardens open to the public with breathtaking views of surrounding vegetation and jungle. Accommodations such as cottages and villas make this resort an ideal location to host your guests for a memorable wedding celebration by the poolside. With in-house decor and caterer services available, you'll surely have an unforgettable experience here!
Highlights: Enjoy breathtaking views of the jungle and plenty of outdoor activities.
Location: NH-8, Kachera Wala, Kukas, Rajasthan
23. The Nest Jaipur Resort
Opened in 2021, The Nest Jaipur Resort offers an idyllic retreat away from the city noise. With stunning views of the city's gardens, this venue can host events such as Mehendi or Haldi ceremonies. Combining luxury with tradition, this hotel features luxury rooms, suites, and Signature suites, making it a must-stay for planning your Jaipur wedding here!
Highlights of the Location
Ajmer Highway Near Bagru Toll Plaza is conveniently situated just 20 kilometers away from Jaipur International Airport and 24 kilometers from Jaipur Railway Station – both are major hubs for tourism in Rajasthan. 
This resort in Jaipur is ideal for all private wedding celebrations, such as Mehendi, Haldi, and Sangeet. They serve delectable multi-cuisine dishes and provide guests with amenities like their pool and terrace, making it the ideal setting for your guests' perfect celebration.
Highlights: Multi-cuisine restaurant
Location: Bhagwan Pura Road, Chandsen, Rajasthan 304501
Established in 2014, Hotel New Haveli in Jaipur has hosted hundreds of weddings since then. From intimate gatherings to extravagant ceremonies, this stunning venue provides the ideal atmosphere, professional service, delicious meals, and clean venues that can turn any event into a truly memorable occasion. If you're searching for an elegant setting to host your receptions, New Haveli is your go-to choice!
26. Satyam Resort Banquet
Feeling overwhelmed with wedding work? Struggling to pick the ideal location from all of the available venues? Satyam Resort Banquet in Jaipur is here to help! Their spacious air-conditioned room, great car parking area, and professional staff with discipline and devotion – not to mention stunning architecture and artistic details that will leave your guests in awe!
Crowne Plaza Hotels & Resorts are world-class full-service hotel chains dedicated to your personal and professional growth. With more than 400 hotels in major urban areas or gateway cities and resort destinations across more than 60 countries worldwide, we're always close by when you need us most.
Jaipur's Pink City is now known as RAJBAGH Palace! This modern, contemporary hotel exudes vibrant colors and captures the true essence of Rajasthan with exquisite style. The RAJABAGH Palace is conveniently near popular tourist spots such as Aravalli Hills Range, Amber Fort Nahargarh, and JAIGARH in JAIPUR. Guests can easily explore this magnificent palace 25 kilometers from the airport and 15 kilometers from railway stations. RAJBAGH Palace in Jaipur offers DELUXE and Super DELUXE Rooms with beautiful hues and spaciousness. All guests enjoy complimentary internet connectivity, a breakfast buffet, and air conditioning. Experience authentic Rajasthani flavors in our restaurant! Breakfast is also served here every morning!
Ramada Jaipur, The Synonym for luxury and comfort, offers supreme comfort in The Pink City. As one of Jaipur's most prestigious hotels, guests will be sure to leave satisfied with its supreme comfort and unmatched fashion sense. Ramada Jaipur offers a comfortable stay that is an oasis of serenity and calm. Situated close to Jaipur's major business hubs, you're only steps away from everything the city offers. Business travelers appreciate its central location near Jaipur Airport, Train Station, and Bus Terminal, all only 15 minutes away!
Q1. How much does a marriage home cost in Jaipur?
Ans: The cost of marriage homes in Jaipur varies greatly depending on the size, location, and amenities. Prices can range from a few thousand rupees for a small venue to several lakhs for a large and luxurious venue. However, the average cost of a marriage home in Jaipur is around Rs. 15,000 – Rs. 20,000 per day.
Q2. Which are the top 5 wedding venues in Jaipur under 10 lakhs?
Ans: 1. Jaigarh Fort – A beautiful and grand fort near Nahargarh Fort, Jaigarh Fort is the perfect venue to host a wedding. It has a capacity of up to 1000 people, and the cost of renting it is around Rs. 6 lakhs.
2. Jai Mahal Palace – One of Jaipur's oldest and most beautiful palaces, Jai Mahal Palace is a perfect venue for a regal wedding. The cost of renting it is around Rs. 8 lakhs.
3. Suryagarh – A luxurious and modern hotel in the heart of Jaipur, Suryagarh is the perfect venue for a contemporary wedding. The cost of renting it is around Rs. 8 lakhs.
4. Raj Mahal Palace – An elegant palace in the heart of Jaipur, Raj Mahal Palace is perfect for a royal wedding. The cost of renting it is around Rs. 5 lakhs.
5. Samode Palace – A beautiful and luxurious palace near Jaipur, Samode Palace is the perfect venue for a lavish wedding. The cost of renting it is around Rs. 8 lakhs.
Q3. Which are the top wedding venues in Jaipur under 20 lakhs?
Many wedding venues in Jaipur can be booked within the budget of 20 lakhs. Some top options are:
1. The Chomu Palace is a heritage property with an ideal wedding venue with its grand courtyards and lush gardens.
2. The Tree of Life Resort & Spa is a luxurious wedding destination that perfectly combines modern and traditional elements to create a memorable event.
3. The Umaid Bhawan Palace is a stunning destination with a perfect setting for a glamorous wedding.
4. The Oberoi Rajvilas: This luxurious 5-star wedding venue is perfect for those seeking a luxurious wedding experience.
5. The Ram Bagh Palace: This is one of the oldest palaces in Jaipur and is known for its grandeur and beauty. It is a great venue for an unforgettable wedding experience.
Q4. Where is the cheapest to get married?
Ans: For those looking to save money on their wedding, there are a few ways to do it. One option is to have a small wedding with a limited guest list. Not only will this save on catering costs, but it will also reduce the cost of decorations. Another option is to have a destination wedding in Thailand or Goa, as the cost of venues and other services are often much lower in these locations. Finally, you could consider having your wedding in a public venue such as a park or beach. These locations are often free or affordable and provide a beautiful backdrop for your special day.
Q5. How much does a wedding cost at the Royal Palace Jaipur?
Ans: The exact cost of a wedding at the Royal Palace Jaipur can vary based on the size of the wedding and the services requested. Generally, a wedding at the Royal Palace Jaipur can range from around $50,000 to $200,000. This cost includes renting wedding venues, catering, music, decorations, and other services. Additional services such as photography and videography may also be added for an additional cost.
Q6. How much does Udaipur destination wedding cost?
Ans: The cost of a Udaipur destination wedding can vary greatly depending on the wedding size, the venue type, and the other services included. Factors such as the number of guests, the type of food, decorations, and entertainment can also greatly impact the overall cost. Additionally, couples should factor in travel costs for their guests and themselves and any additional accommodations needed.
25+ Wedding Venues in Jaipur