A Stress-Free Wedding with Experienced Wedding Planners in Agra
Are you searching for the top wedding planners in Agra? Look no further than us – we are highly sought-after by couples seeking perfection for their ceremonies. No matter your theme, we can provide colors that will perfectly fit into the ambiance.
Our team of Wedding Planners in Agra Uttar Pradesh consists of top caterers and designers who can offer services like trousseau packing, venue selection, eye-catching wedding cards for invitations, and more. With top-notch wedding planning solutions, our professionals ensure your special day remains an unforgettable memory! We understand the eternal bond between two people and strive to make sure it remains so!
Being among the well-known Wedding Planners of Agra hasn't hindered this company's ability to be better at each task and to achieve the highest quality with impressive results. Our wedding planner is the best choice for you if would like your wedding to be an unforgettable event.
Specialized in sparkling wedding decorations along with floral decorations, we offer many innovative ideas for your wedding decor that will surprise you in delight. Our professionalism and commitment to delivering our clients a great experience are the characteristics that wedding couples admire. Earning the trust of your guests and maintaining this relationship after the event proves to be what you are. We're with you and your wedding. We can also plan your wedding in other popular locations like Punjab, Jaipur, Udaipur, Malaysia, Dubai, Turkey, Thailand, and Goa.
Agra, The Romantic City
One among the Seven Wonders of the World, Agra city is the most important city in India. In addition to the famed Taj Mahal, this city is famous for many other sights in addition. The most notable include The Taj Mahal, The Agra Fort, Fatehpur Sikri, and many more. You'll surely be ecstatic to visit this location and enjoy the experience of experiencing the past of India in a new way.
Why Agra is Famous for Destination Weddings?
Agra is one of the top romantic wedding locations situated on the picturesque banks of the river Yamuna, Agra is known as the home of several of the most famous places in the nation like the Taj Mahal, Agra Fort, Fatehpur Sikri, Akbar Tomb, Ram Bagh, and many more. The whole city of Agra is breathtakingly beautiful It is possible to have your wedding ceremony in one of the resorts or hotels with a view of one of the stunning sights that Agra offers.
Top Rated Wedding Venues in Agra to Host a Royal Wedding!
The selection of one of the best wedding venues in Agra is the most crucial decision following having a mutually agreed wedding date. With the variety of venues offered, couples may have a difficult time identifying an exact place. We suggest that you pick an event that is close to your home and then know the budget you have set, the packages offered and the best prices! If you're considering having your wedding to be held during the off-season, it's possible that you can save money on your wedding day. Your venue has the potential to determine the tone of your wedding and that's why selecting the ideal location is important. Some of the top-rated wedding venues in Agra are mentioned below:-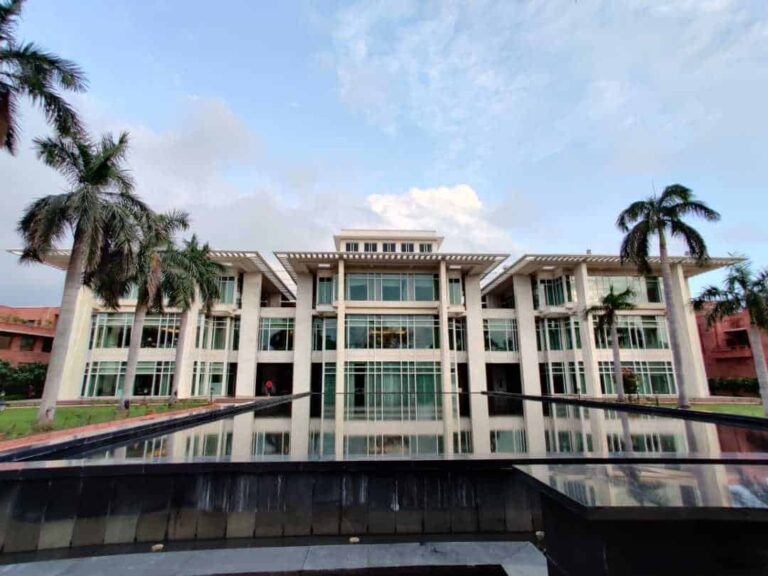 Jaypee Palace Hotel
The magnificent Jaypee Palace Hotel as well as Convention Centre is a stunning architectural blend of marble and red sandstone spread across an unbounded 25 acres of exquisitely designed lush greenery. With huge pools of water and endless pathways, This stunning structure flawlessly blends Mughal and modern architecture with modern conveniences. The way leads to lavish bedrooms and suites. The stunning interiors create an impressive way to spend your time.
One of the five-star luxury hotels, the hotel has six spaces to film your special events. There is an outdoor lawn that has the capacity to seat 120 and 4 indoor halls that can hold anywhere from 60 to 800 depending on the location you decide to use, as well as an outdoor lawn with an enormous capacity for seating 800 guests. The hotel provides a stunning setting for the intimate and grandiose celebration of an event. All this luxury makes this hotel an ideal wedding destination in Agra for couples seeking royalty in their wedding.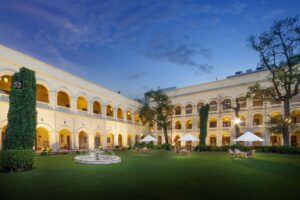 The Grand Imperial Hotel
The Grand Imperial is a boutique historic hotel that is the only 100-year-old hotel that is operating in Agra. It was constructed around 1900 and was established for the colonial British at the time that it was the British Empire was at its highest point. The relaxing atmosphere and the lush greenery and the unique celebrations are even more memorable and unforgettable memories. Being the best Wedding Planners in Agra, we assure to host your wedding with exoticness and aestheticism in this historic hotel.
The Great Imperial Agra has witnessed numerous memorable occasions of knots being tied and enjoying the blissful moment of souls joining one another for the rest of their lives. There are three different areas The entrance lawn, the side lawn as well as the Sheesh Mahal, which can seat up to 600 guests in different locations. The spaces even though they are adorned with antiquities, are extremely adaptable and be adapted to any event that you would like to host with them. They also provide a lavish buffet of various cuisines for the guests and you.
The Taj Orient
The Taj Oriental, Fatehabad Road, Agra is well-known for its hospitality as well as its decor and tasty food. With 24 hours of service and top-quality amenities, you're guaranteed to feel like royalty when you visit the location. Orient Taj Agra has multiple locations for parties, including Kohinoor, Senate halls, and the beautifully maintained lawn Gulistan which is perfect to host weddings, pre-wedding receptions, and wedding ceremonies. In addition to a huge swimming pool as well as multiple activities centers, including a games room and gym, Taj Orient, Agra is a stunning sight for guests.
Radisson Blu Agra
Radisson Blu Agra is a stunning place to hold birthday celebrations, anniversaries weddings, corporate events weddings, receptions, and other ceremonies. It is situated near The Mughal Museum which is a popular destination for the people who live in the area. The hotel is located near distance to the Agra Fort, Keoladeo National Park as well as the historical city that is Sikandra in Sikandra and Fatehpur Sikri. It has a spa that is rejuvenating as well as a fitness center with a high-quality fitness facility and a well-appointed business center. Enjoy their traditional Indian food at Daawat-e-Nawab as well as international-inspired meals at their Palato, a 24-hour dining establishment Palato and trendy drinks and food options in their sky lounge by the pool, Infini, overlooking the Taj Mahal.
The Mansingh Palace
If you're in search of an experience that matches the royal quotient of monarchs and queens, you'll find The Mansingh Palace, Agra the perfect spot to celebrate your wedding. It is located in the city of history the hotel is a top luxury establishment that is perfect for couples that want to be awe-inspiring at every moment of their lives. The hotel is renowned for its breathtaking views over the Taj Mahal from its super-premium luxury suits and cozy patios. This hotel is only 4 km from Agra Fort Railway Station and 30 minutes from Pandit Deen Dayal Upadhyay Airport.
The décor team from Mansingh Palace, Agra, manages the decor and allows you to relax and enjoy the event. This destination wedding resort in Agra is also able to bring in your own decorator from outside who will decorate the space according to the requirements of your event. What are you waiting to do? Reserve your tickets to The Mansingh Palace, Agra, to make your celebration an elegant celebration.
What Does A Wedding Planner Do?
You can relax knowing that you are in good hands when you hire a wedding planner. They will assist you in finding the right wedding vendors and venues to make your dream wedding come true. A full-service wedding planner can help you choose colors and themes that suit your personal preferences. Your wedding planner will act as your creative partner and assistant. They will also do the legwork and research for you. You only need to say yes or no.
What Makes Us the Top Destination Wedding Planners in Agra?
When you hire Star Wedding & Event Solutions as your destination Wedding Planners in Agra, we assure you fulfill your dream wedding in the fairytale style that you have ever dreamt of. Taking all the responsibilities on our shoulders, we let you enjoy your social moments without any worry. Our vast contacts with vendors and dealers do not let any arrangement get delayed in your pre-wedding, wedding, and post-wedding events. Following are the qualities that differentiate us from other Wedding Planners in Agra:-
Commitment
Detailings
Punctuality
Budget Friendly
"You guys are legendary! You guys are great and having amazing support & service. I couldn't ask for any better. Special thanks for crafting a spectacular mehendi by Mansi Khanna at our residence and the very gala sufi night which we are not able to get over.. Thank you!"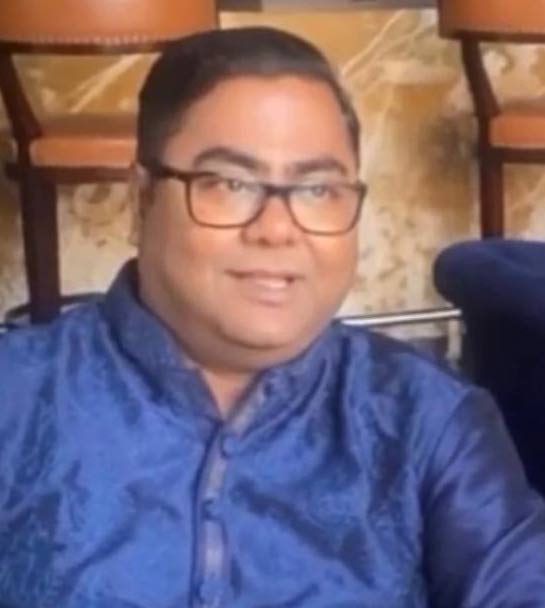 "We really appreciate Mansi and the whole team of Star Weddings for the level of creativity that they gave to our wedding. The enthusiasm, organisational skills and dedication to every event during our wedding was outstanding and communication was always a pleasure."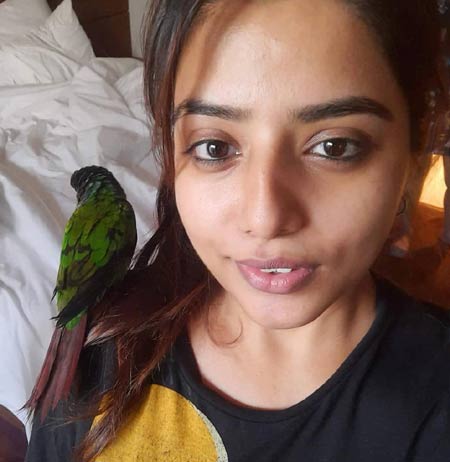 "Heartfelt thanks to Star Weddings for making my dream wedding come true. You guys are the best in the industry. Thank you for being a family and understanding all my wishes and fulfilling them. The wedding journey was smooth & perfect one that words can't describe it."