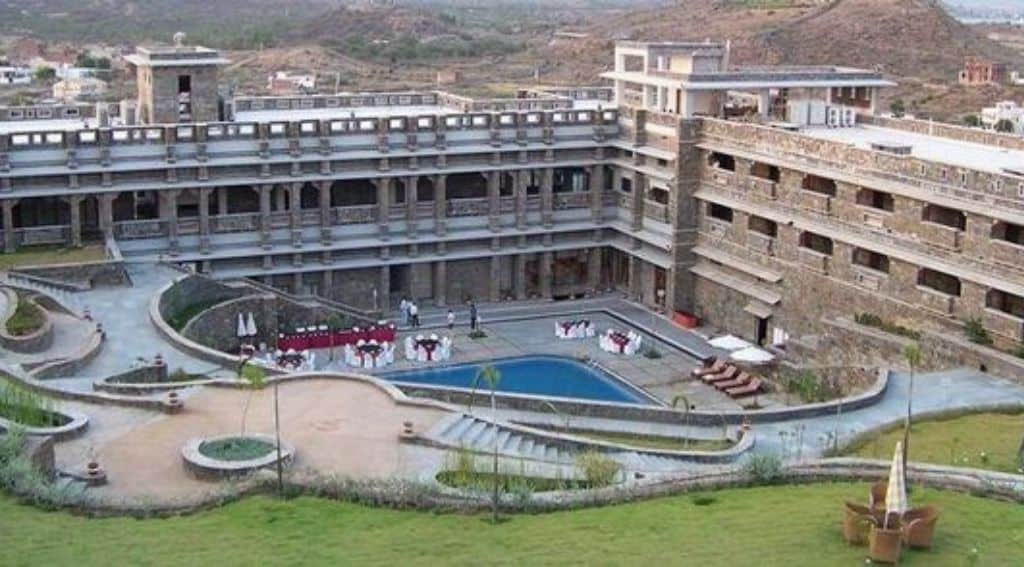 Ramada Udaipur Resort & Spa in Udaipur
Ramada Udaipur provides a perfect setting for weddings. It receives a peaceful background perfectly designed for memorable pre-wedding photoshoots and best destination for dreamy weddings.
Ramada Udaipur Resorts & Spa is a luxury hotel traditionally built in stone and surrounded by natural beauty in the Mewar region of India. The architecture is predominantly from the Mewar region, with a series of gardens set in a traditional structure creating a peaceful and healthy environment. This hotel stands out for its architectural style.
You are looking for a venue for a wedding in Udaipur. That exemplifies polish, extravagance, and mysticism for your fantasy destination wedding, look no outlying than Hotel Ramada. This magnificent palace is the ideal choice for couples seeking a spectacular and unforgettable wedding experience.
Areas Available
Ramada Resort & Spa Udaipur has a central courtyard with 4 types of rooms.

3-level terrace where you can enjoy stunning views of the city, the famous Lake Pichola, and Sajan Gart Fort. (known as the Palazzo dei Monsoni).

Poolside –

This Poolside venue gives you an amazing backdrop for your house party, combined, and poolside wedding.

The Meridian –

can assist up to 250 people and is one of the desirable weddings in Udaipur as destination wedding places

Zuma –

This is an internal hall with the ability to take up to 120 clients.

Sajjan Terrace –

is a terrace venue with a 12000 sq ft area. With an ability of 1000 houseguests, it is best for a great destination wedding in Udaipur. 

Rock Garden –

It can take up to 500 houseguests and is circulated over 15360 sq ft.
Service and Facilities
Along with luxurious rooms, Ramada Resort & Spa Udaipur offers its guests a wide range of facilities for a relaxing and enjoyable stay.
As a result, Ramada Resorts & Spas Udaipur promises to offer luxury and pleasure with quality service. Whether you're looking for romantic weddings.
Star Wedding & Event Solutions will provide all the facilities provided by the Ramada Udaipur Resort & Spa.
Info-
Address: Rampura Circle Khodiyat, Road, Udaipur, Rajasthan 313001