5 Beautiful Beach Wedding Venues in Goa for a Stylish Wedding (2023)
If you can imagine yourself tieing your knot in the blue sea's blue background Then these Beach Wedding Venues in Goa tropical setting are sure to ensure that the fairy-tale wedding you dream of is a reality.
Goa is home to many of the most captivating white sandy beaches that offer breathtaking landscapes for the perfect day. Through the years, Goa has not only been a dazzling tourist destination, but it has proved to be an ideal location for incredible wedding ceremonies. Actually, weddings with a destination in Goa are becoming a norm lately. 
Try These Five Beach Wedding Venues in Goa to Make Your Day Glorious
Aren't beach weddings so surreal? A mandap by the beach to take your wedding vows, cocktails at the cabana, and the sound of the beautiful ocean. But how do we plan a stellar destination wedding by the beach side and not put a dent in the pocket? Here are some heavenly resorts by the beach, in Goa where you can plan your dreamy destination, and that too on a budget. Here are some venues that will make your wedding day rock within your budget. Lets Begins…
#1 Riva Beach Resort
Riva beach resort is located on the white sands of Mandrem Beach in North Goa. It is complemented by a breathtaking sea view where you feel close to nature and at the same time you experience the luxury where care is taken to give top class services to make your wedding moment perfect.
Address: Mandrem Beach, Pernem, North Goa – 403 527.
#2 Beleza by the Beach
Welcome to Beleza By The Beach — a step into lore, sustainability, culture, and untainted beauty. Soak up the glories of South Goa, the scintillating sun, and the pristine white sandy beaches of Colva amidst a wonderland that is both art and heart. Start your day with a steady swish of the waving sea at Betalbatim Beach. This beautiful Betalbatim beach resort comprises 94 tastefully designed luxurious rooms, suites, and villas which make it a perfect choice for your wedding or a romantic vacation.
Address: Thondwaddo, Betalbatim, Salcette, Goa – 403708
#3 Prainha Resort by the Beach
Experience a slice of Paradise at Prainha Resort by the Sea. On a secluded cove atop the bay where Goa's most famous rivers meet the Arabian Sea, first-class hospitality meets Goan heritage. Rich in heritage, charm, and character, the resort offers a sense of tranquility. Prainha is the perfect tropical escape that will leave you feeling rested and relaxed.
Address: Resort by the Sea Near State Bank of India, Dona Paula, Goa – 403004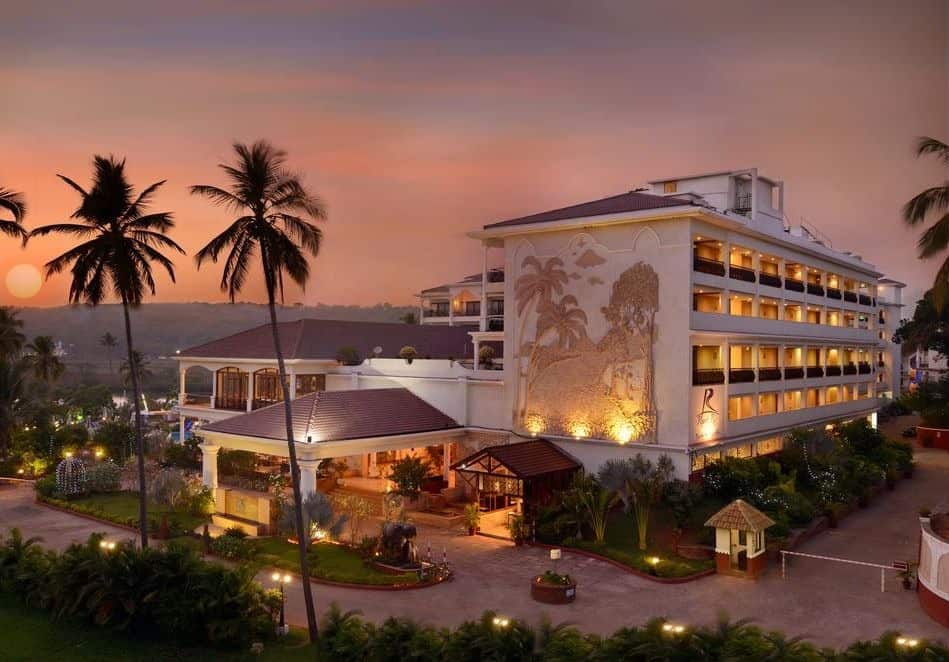 #4 Rio Resort for a destination wedding
A destination beach wedding in Goa is so much more fun than you can imagine! And if that is not convincing enough, a wedding in one of the best 5-star resorts in Goa is an absolute fairytale come true. So if you're planning to get hitched in Goa, Resort Rio is one of the most magical places to get married due to the following reasons.
Address: Near Baga Beach, Tambudki, Arpora, Bardez, Goa 403518 
#5 Bogmallo Beach Resort
If you are planning a wedding and would like to have the sea as your backdrop then this is the place you need to come to. With splendid settings and banquet arrangements, Bogmallo Beach Resort is the ideal venue for weddings, parties, cocktail dinners, and get-togethers. Whether you want a destination wedding for 400 or an intimate beachside ceremony for 50 guests, Wedding professionals will personally attend to every detail. It's a Match Made in Heaven. You can choose the resort's garden or lawn wedding setup or you can have your wedding right on the beach.
Address: Bogmallo Beach Resort, P.O. Bogmallo, 403 806
Q1. How Much Does a Destination Wedding Cost in Goa?
Your destination wedding in Goa cost can range from INR 13 lakh to 20 lakh if 100 guests attend the ceremony. If you simply book the venue for one day, expect an expense of approximately INR 2 million.
Q2. How to plan a Beach wedding in Goa in under 10 lakhs?
Start by creating a budget. Make sure to include all costs associated with planning the wedding, such as venue rental, catering, decorations, photography and videography, music, and any other services you may need.
Choose a venue that fits your budget. Consider both indoor and outdoor venues and consider the size of the venue and its amenities.
Plan for the transportation of your guests. Consider the cost of renting buses or booking car services to get your guests to the venue.
Book a photographer and videographer to capture the special moments. Look for local professionals who can offer competitive prices.
Hire a wedding planner for Goa to help you manage the details. They can help you select the right vendors and ensure that everything runs smoothly.
Choose decorations and catering that fit your theme and budget. Consider asking family and friends to help out with the food and decorations to keep costs low.
Finalize all details and send out the invitations. Make sure to give your guests plenty of time to make travel arrangements.
Enjoy your destination wedding. Take time to relax and enjoy your special day!
Q3. Which month is the cheapest to get married in Goa?
It depends on a variety of factors, such as the time of year, the type of venue you choose, and the number of guests you are inviting. Generally, the best time to get married in Goa is from September to March, as this is when the monsoon season is over and the weather is less humid. This is also the time when hotels and resorts offer the best deals, so it's a good time to look for bargains. However, if you want to avoid the tourist season, you can look for deals in April and May, as this is when it's still warm but the crowds are smaller.
Q4. How much does a 2 days wedding cost in Goa?
It depends on the type of wedding you are having and the number of guests. Generally, weddings in Goa can range from Rs. 25,000 to Rs. 5,00,000 for a two-day event. Factors such as location, decorations, food, and drinks can influence the cost. It is advisable to consult a wedding planner to get a better idea of the cost.
5 Beautiful Beach Wedding Venues in Goa (2023)