3 Incredible Venues for Destination Wedding Under 5 Lakhs in India 
Destination wedding under 5 Lakhs can be possible if you have the right plan for this. Finding the ideal place to tie the knot on one of life's most significant occasions can be an incredible experience, and sometimes costs may exceed your wedding budget. Don't let that stop you from enjoying every moment of your special day with a breathtaking backdrop that will make it seem like something out of a fairy tale.
India tends to prioritize two areas when it comes to spending. Their child's education is usually the priority, followed by their child's marriage.
Anyone who has attended an Indian wedding knows the extraordinary efforts parents make to ensure their children have a memorable wedding. No matter their means, Indian families go above and beyond what is necessary for a truly memorable celebration.
Indian weddings are celebrated for their rich traditions and carefully planned details. At the core of an Indian marriage ceremony is the physical, spiritual, emotional, and mental union between two people; but it also involves the joining of families through prayer, celebration, and community. Here are the 3 most famous wedding venues for destination wedding under a 5 lakhs budget in India.
Udaipur Wedding Under 5 Lakhs
Udaipur is known for its majestic palaces and white city in India, making it an ideal destination both for extravagant weddings and budget-minded events. With so many stunning venues to choose from, there's sure to be a package that suits everyone's budget!
Udaipur can offer destination weddings for less than 10 lakhs if you shop around carefully.
Udaipur, an idyllic city, is the ideal setting to celebrate life's most significant moments with family and friends. It makes a stunning destination for a royal wedding with its breathtaking backdrops and captivating photo ops.
Destination Weddings Under 5-10 Lakhs in Goa
Goa has long been a sought-after destination for couples from India and abroad looking for an idyllic beach wedding. Couples are drawn here by its serene environment mixed with wildness, making it the ideal setting for such celebrations.
This stunning location is the ideal backdrop for your destination wedding. Enlist the help of a professional wedding planner to make planning your big day stress-free.
Your moment spent together, wrapped in love and the wind blowing around you will remain a memory that both of you will treasure throughout the rest of your lives.
Shimla Destination Weddings Under 5-10 Lakhs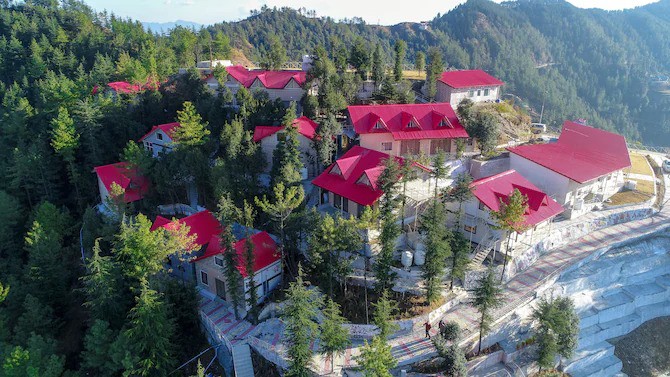 Shimla is one of India's beloved snow destinations. Shimla is an excellent option if you're searching for a budget-friendly destination wedding in India. Plus, it's close to Manali – one of India's top honeymoon spots.
Shimla is an idyllic destination for weddings, boasting its snow-capped Himalayan mountains and towering pine trees.
Shimla destination wedding packages range in cost from 5 lakhs to 10 lakhs and offer an unforgettable venue for 100 to 150 guests. Package prices begin from 5 lakhs up to 10 lakhs.
Five Unforgettable Venues for Destination Weddings Under 10 Lakhs
#1 Aaram Mahal Wedding Under 10 Lakhs
Near the breathtaking Lake Pichola lies Aaram Mahal. This venue is renowned for its unmatched hospitality and a wide array of wedding services that will make your dreams come true. Additionally, Aaram Mahal also provides family rooms as well as 24-hour service.
All rooms feature TVs and private bathrooms. Continental breakfast is served daily at the venue. Guests can explore nearby Udaipur city palace, Jagadish Temple, Bage ki Haveli, as well as other attractions within 14 minutes of the hotel – making it a convenient and easily accessible destination for guests.
At Aaram Mahal in Udaipur, wedding costs are affordable. With 37 rooms to choose from and rates ranging from INR 5000-8500 for rooms, meals, or events at this hotel that range between INR 1000-2500 per person, the decor at Aaram Mahal costs from INR 4 Lac to 12 Lac, entertainment & event prices between INR 4 Lac – 7 Lac and entertainment/event packages available, Aaram Mahal offers it all at affordable rates!
#2 Aranya Vilas 10 Lakh Wedding Budget
Aranya Vilas, as its name suggests, is an oasis tucked away amongst lush greenery that covers over 2000 sq meters. This breathtaking venue truly feels like a home away from home; perfect for nature enthusiasts and those seeking an elegant yet simple wedding ceremony setting. Let the resort's serene atmosphere and radiant presence soothe your soul.
Aranya Vilas Wedding Cost in Udaipur
Aranya Vilas offers 20 rooms.
Accommodation at Aranya Vilas ranges in cost from INR 4000 to 6000.
Aranya Vilas Meals Cost – INR 1200 to 1800
Aranya Vilas Decor Price List: INR 4 Lac to 10 Lac
Aranya Vilas Entertainment: Cost of Event & Entertainment – INR 3 Lac – 8 Lac
Aranya Vilas promises to make your wedding day an unforgettable one, filled with laughter and joy. Situated amidst stunning surroundings and picturesque landscapes, this venue guarantees an unforgettable experience for all guests.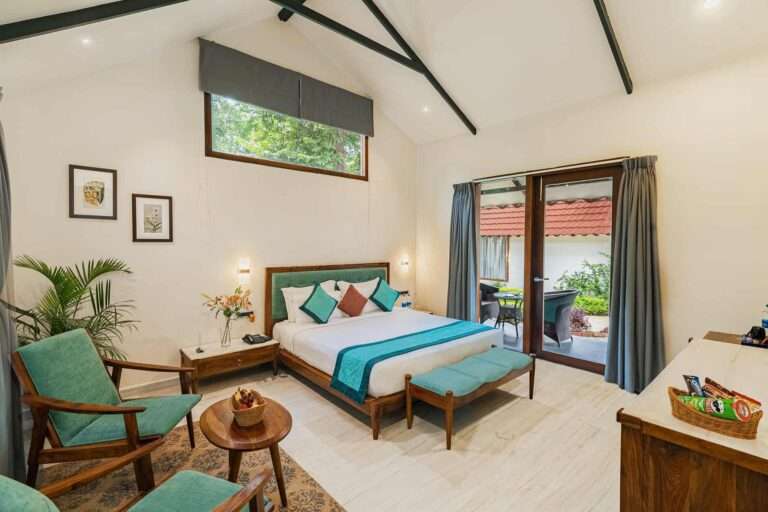 #3 Bogmallo Beach Resort, Goa
Bogmallo Village is close to Bogmalo Beach Resort and makes for an idyllic wedding venue. Situated close to the Arabian Sea, you can take beautiful pictures at sunset facing the ocean – guaranteed to add so much joy to your big day! They will arrange all necessary seating and banquet arrangements so that it truly becomes a destination wedding.
Bagmallo Beach Resort in Goa is the perfect location to commemorate your special day and celebrate with family and friends. This resort has 150 rooms that can accommodate up to 400 guests, while their experienced wedding professionals take care of every last detail during your stay.
#4 Chomu Palace Wedding Under 10 Lakhs
Chomu Palace, the epitome of elegance, captures Rajasthan's vibrant culture. Built 300 years ago in all its grandeur, the palace offers its guests the best that life has to offer – an experience like no other.
Chomu Palace beautifully blends modernity and ancient heritage. As a historic monument, it makes every celebration truly unforgettable. If you're searching for grand residences, Chomu Palace is the ideal choice.
Chomu Palace in Jaipur – Wedding Cost
No. Of rooms at Chomu Palace – 70
Chomu Palace Rooms – INR 7000-12000
Chomu Palace Cost of Meals – Rs 1500 to 3000
Chomu Palace Decoration Cost – INR 7 Lac to 22 Lac
Chomu Palace Entertainment & Event Cost -INR 5 Lac – 19 Lac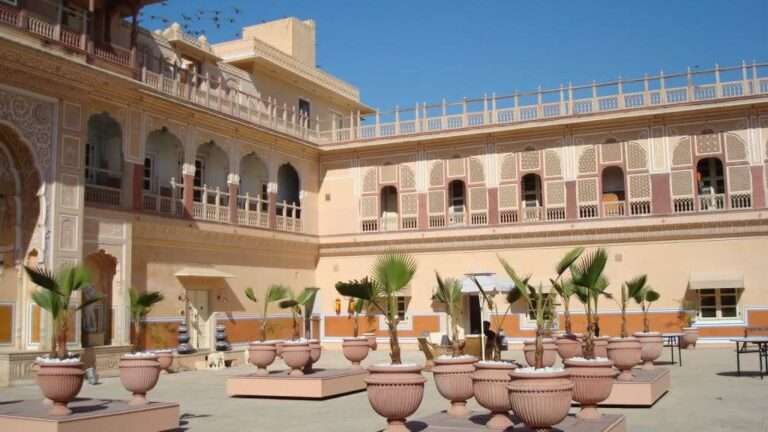 #5 Rajbagh Palace Jaipur Wedding Under 10 Lakhs
Jaipur's atmosphere is truly magical. Jaipur's vibrant culture, or the ethereal atmosphere that envelopes its guests, makes it the ideal destination for extravagant weddings – Rajbagh Palace being one such venue. Rajbagh Palace can truly provide a grand and royal setting.
This palace is conveniently situated close to all major tourist destinations and will make the ideal backdrop for your special occasion. Enjoy luxurious rooms, suites, and other amenities at Rajbagh; sample delectable Rajasthani cuisine in romantic restaurants set against stunning sunsets – what more could you want? With so much to offer, Rajbagh truly does tick all your boxes.
Rajbagh Palace in Jaipur: Wedding Costs
Rajbagh Hotel Offers – 56 Rooms
Rajbagh Rooms – INR 5500-9000
Rajbagh Meals Cost – From INR 1500 to 2500
Rajbagh Decor Cost – INR 7 Lac to 22 Lac
Rajbagh Entertainment and Event Cost – INR 5 lac – 19 lac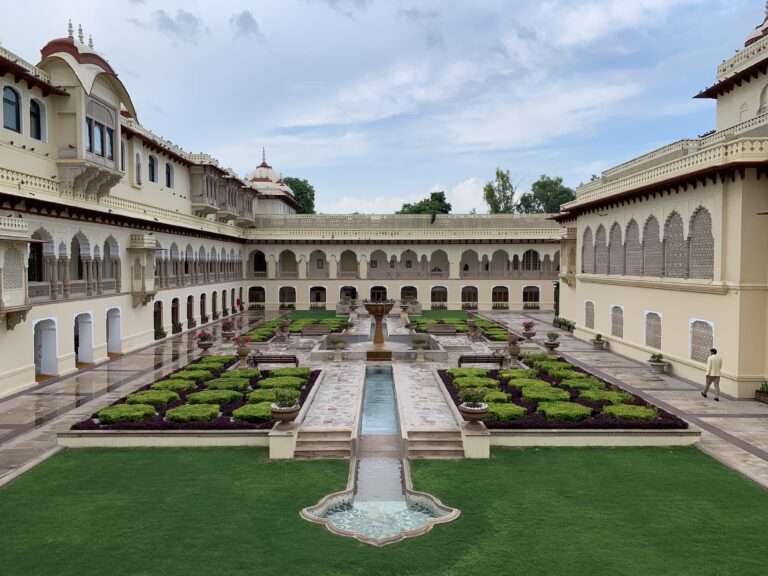 You have some details of Wedding venues that fall under the 5 to 10 lakhs budget. It's your turn to find out trusted wedding planner who will make your all tasks super easy and will make your special day more special through their experience.
Destination Wedding Under 5 Lakhs in India