The bride and groom must be covered in turmeric paste at the Haldi ceremony, which is the most typical traditional custom. This is to be said that applying turmeric symbolizes blessings, prosperity and evicts the evil spirit. We all know the haldi function is only about taking a colorful vibe with pop-up colors and fun & enjoyment with family and friends. This is the most special occasion of overall pre-wedding functions. This haldi ceremony should also be taken as an important part of the pre-wedding event. 
We have seen couples wondering about the best photographers for their shoot but have you known that having a good Haldi Decoration Ideas can be an easy task to capture your special moments with your loved one? Don't worry my dear! To assist you in finding the Best Ideas, we are here. You don't need to go here and there for finding the best one as you come to the right place where you can find the most appropriate suggestions. These decorations will surely beautifully the overall looks as they capture the precious moments of the couple's haldi function with the best decoration of the haldi ceremony. 
In this blog, we are going to share the Best 25 ideas of Haldi Decoration that you can pick for your Haldi function. From larger to smaller events, will cover everything you are looking for. Well, you can go with a lot of experiments, but now you don't need to go from this as we come to help you to make your haldi function precise with pleasant yet creative haldi decoration ideas. You can choose any one of them by your preference for your haldi ceremony, all were selected by experts that provide unique and remarkable impressions.
So scroll down and get inspired by one for your function!
Some Latest Haldi Decoration Ideas 2023
 

1. Marigold Flower Chain Backdrop
One of the common background designs for haldi decoration is to be used in many haldi functions. The design shows their beautiful chain that is full of marigold flowers, which symbolizes their stunning look with bride and groom pictures. This background is perfect for those who want a simple and common look. This Simple Haldi Decoration basically captures the beautiful moment of that day with the beauty of yellow flowers. Also, marigold flowers are known to be very auspicious for Indian occasions that's why we can say that it is the top choice from overall haldi decoration ideas. 
Orange-Fusion Entryway Haldi Decoration
Want to delve into the beautiful orange vibe, then I think this may be the best option. This orange-fusion entryway haldi decoration can enhance the traditional touch of the overall occasion with orange flowers and orange & gold fabric drapes. This orange bright color haldi decoration ideas creates a vibrant and inviting atmosphere using a combination of traditional elements and contemporary aesthetics which symbolizes energy, vibrancy, and auspiciousness. With this decoration, you can also make a rangoli design with some bright orange flowers that will be at the entrance. For this decoration, you need to set up the LED strip which should be in warm golden tones so that, this will able to provide the same look as you imagined or saw.  
Colorful Flower Wall Background Haldi Decoration
Colorful flower wall Background Haldi Ceremony Decoration is one of the most trending decorations because they involve different flowers of different colors which provide a different look as a haldi decoration. In this, you can choose any flowers of your choice. Make sure you opt for large-bloom flowers such as roses, sunflowers, etc. By decorating with large bloom flowers, it can create a photo booth corner. Also, we can set up a cozy seating area using colorful cushions, poufs, and rugs that will serve as the focal point. 
Umbrella Decoration
In this Haldi Decoration Ideas, you can use embroidered colorful umbrellas for taking colorful and traditional vibes. It looks very beautiful, you can choose umbrellas and their colors according to your preference. Yellow, orange, red, & pink like bright and cheerful colors can create a whimsical and inviting path for the couple's entrance. If you can't able to find these embroidered umbrellas, you can purchase colorful umbrellas and decorate them with flowers, stones, ribbons, beads, and tassels. These umbrellas are used to hang overhead in creative ways to make an elegant entrance for guests. 
Innovative Haldi Decoration With a Touch of Flowers and Flowers Bush
Wondering to find something different for Haldi decor? This Haldi Decoration Ideas is the best one! The mixture of these vibrant colors and greenery with wheat grass and white pops absolutely provides a stunning look with this background decor. It would be a great match for those who want a pastel theme in their haldi decoration and can use yellow, and white-like colors. In that, you can also set up flower crowns that can create with flower accessories using fresh white and yellow blooms and foliage.
Marigold Haldi Decoration With Lotus-Shaped Urli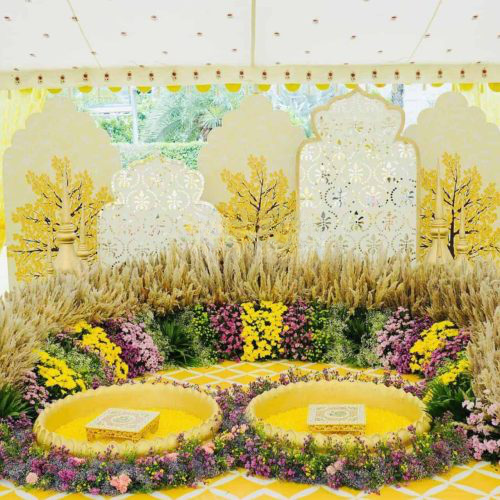 This is the most pick one haldi decoration ideas where the green leaves and marigold flowers are present with lotus-shaped Urli. This Urli is used to be for bathing where the haldi is applied. If you're looking to create a captivating and meaningful decoration, combining the vibrancy of marigold flowers with the auspiciousness of turmeric in a lotus-shaped Urli can be a wonderful choice. Filling the Urli with clean water and decorating it with some decorative elements that can float in the water, gives you an attractive traditional look. The amalgamation of turmeric, marigold, and a lotus-shaped Urli forms a stunning decor piece that radiates cultural charm and elegance. 
Traditional Couple's Jhoola Decoration
Most couples want to decorate their sitting place i.e. Jhoola for their Haldi Function Decoration as it is one of the most popular items. This Jhoola is covered with light marigold flowers, and also with artificial flowers. It provides an isolated and peasant charm that enhances the beauty of the haldi function. This idea will be going to be the most esteemed decoration for the Haldi function. Also, the marigold flower which is enchanted with Couple's Jhoola provides a fairy-tale-like feel once while swinging on the Jhoola with decorated flowers. You can also use the round Jhoolas for your haldi function, they are also the best option you can opt for. 
Minimal Decoration 
For the one who loves simple decoration, this is the perfect haldi decoration ideas for you! The elements used in the minimal decoration are arranged in a manner fully so that will create a gorgeous setup for the event. This decoration doesn't need any LEDs, only open space is enough for that. Minimal decoration in natural lights makes a gorgeous surrounding. Also, some carpets, metal vases, and sunflowers are all needed for the decoration. This Decoration will create a neutral tone in the overall event. It is set up with a clean and simple white drapery backdrop that helps to stand out this minimal Haldi decoration. 
Marigold Shower With Simple Haldi Background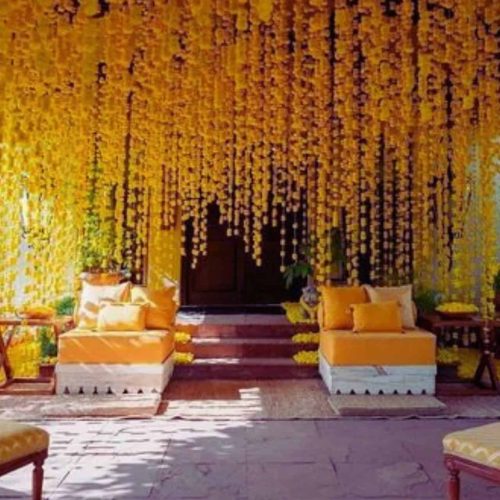 Marigold Shower is the only option for those who want everything yellow in their haldi function. This showering of marigold flowers represents the love between the bride and groom and how they fall for each other. This marigold shower is decorated in the overall venue that is full of yellow flowers, also there is a simple haldi background where the bride and groom will sit to be. There is a perfect match of marigold showers with simple background whereas the marigold showers spread their beauty in the overall venue. 
Jaipuri Themed Haldi Decoration
This Jaipuri-themed Haldi Decoration Ideas is also called "Ring Decoration". This decoration is usually created with the use of air-filled metallic balloons. This decoration provides an elegant look while showing feelings of fun and excitement. This decoration is mostly an ideal option for Wedding Planners in Jaipur. Jaipur-themed haldi decoration includes bright shades i.e. deep pink, royal blue, gold, and rich marigold yellow to infuse jaipuri essence into the decoration. This haldi decoration also has displaying some Jaipuri artworks and paintings. You can adorn your doorway or entrance by decorating with hangings made of beads, flowers, and small trinkets. 
Stunning Haldi Mandap Decoration
Creating a stunning haldi mandap decoration can set the tone for a beautiful and memorable pre-wedding ceremony. The haldi mandap is the focal point where the ceremony takes place, so it's important to infuse it with vibrancy and cultural richness. This mandap haldi decoration integrates with traditional Indian elements like ornate torans, bells, and intricate rangoli patterns that can evoke the essence of Indian culture and customs. Make sure it has low seating with embroidered cushions and comfortable vintage furniture that adds a touch of regal luxury. 
Chandelier Flower Decoration
Another Haldi Decoration Ideas is to be created with a simple and cute chandelier that is set on the top. This is an immensely different idea for your Haldi decoration. Chandelier flower decorations can add a touch of elegance and sophistication to the event. Hang chandeliers adorned with cascading floral arrangements are sued to create a romantic atmosphere. where if you finding a romantic decoration for your Haldi ceremony, you should need to pick this one! It also creates a designated photo booth area with a chandelier that is fully adorned with flowers and the guests are encouraged to take some pictures in the beautiful surrounding.
Mandala-Themed Haldi Function Decoration
There is only one unique idea to set up your haldi decor with colorful background using quirky designs, motifs, faces, etc. It can include various integrated colors that create a bright atmosphere. This mandala-themed decor can bring a sense of harmony, balance, and spiritual beauty to the overall Haldi event. This can be set up as an entrance archway or a background decoration, this will be in your hand how you want. In mandala-themed haldi function decoration, it needs tapestries, fabrics, or floral arrangements to create a mandala pattern in rich colors. 
Decorated Wooden Bench With Colourful Flowers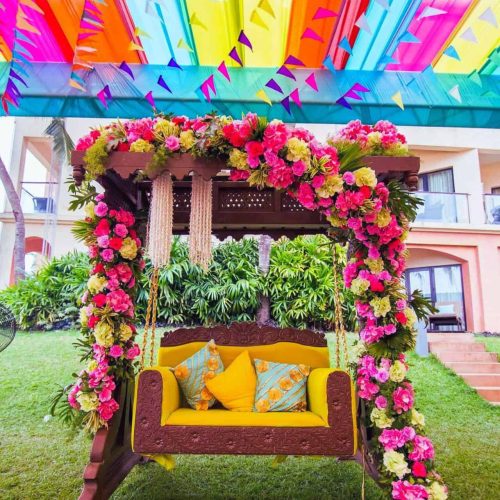 Are you looking for Wedding Haldi Decoration ideas that are super and do not take much time for decoration, this will be a perfect match for you where there is no time taking decoration. Only it needs good arrangements of flowers. This haldi setup is a perfect idea where it helps to click a super bright and happy picture of the bride and groom. By decorating the wooden bench, it creates a charming and comfortable seating area. These will need a mixture of vibrant flowers to create a stunning visual effect. This decoration will add a playful and celebratory element to your decoration with a cohesive and picturesque setup. 
Colorful Photoshoot Booth
A colorful Photoshoot Booth is one of the most important parts for some individuals who love to click pictures. This should be present in the Haldi function as it adds a lot of fun and excitement to the event. This Haldi Decoration Ideas creates a dynamic and visually appealing background for the photos. It can be designed with a flower wall backdrop using a combination of fresh flowers and colorful balloons. By adding a colorful photoshoot booth to your Haldi decoration, guests can pose them in this empty frame for creative and amazing shots. This will play an eye-catchy element to the booth.
Colorful Tassels Hanging Decoration
Colorful Tassels can make a beautiful stage by decorating sitting areas. These can add a vibrant and festive touch to the overall decor. This Haldi Stage Decoration Idea serves as a visually striking and colorful focal point for the event. It can also be designed in an entranceway by hanging tassels curtains on either side of the doorway which creates a lively path that guides the way for the couple's entrance. Suspend large tassel installations from the ceiling at different heights so that they can be arranged in clusters to create a visually appealing arrangement. By incorporating these colorful tassels, you'll infuse the haldi function with a lively and celebratory ambiance. 
Bright Yellow Haldi Ceremony Decoration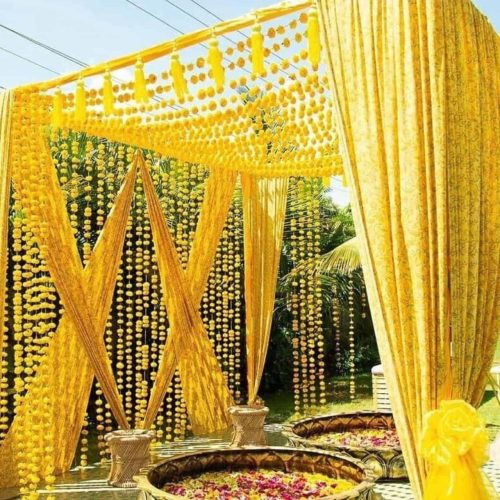 It is to be decorated with white and yellow flowers. These flowers look too bright and will create an energetic surrounding with much excitement. This decoration will represent the inner strength and positivity towards the guests. We can take inspiration from this haldi decoration ideas as it creates a bright atmosphere with marigold flowers. Adding a few white flowers can add a tone that contracts with the yellow flowers. 
Simple Haldi Setup With Fairy Lights
This Indoor Haldi Decoration ideas is a perfect idea for those who love fairy lights. These lights provide a little lightening but adding many will give more lightening. This simple Haldi set up with fairy lights is to be set with draping. In this decoration, the draping is to be set with the colored themed and according to that you can mix-match the fairy lights That's why the fairy lights play a vital role while setting up that decoration. There is not important that we all have to set lights with a colored theme, we can also choose one color i.e. only golden color that can be a vibrant match for the decoration. This will look like a very beautiful environment but make sure you set this decoration in an indoor place. 
Simple Tent Haldi Function Decoration
Whether you looking for an idea of having a Simple tent haldi decoration that this one is a  perfect choice for your preference. These decorations are used to be set up with sheer curtains and drapes. This decoration can be set in the venue's garden and terrace. This includes only bright orange draping that will hang with the mid-point of the overhead section. This will look too elegant when it is decorated with some red or pink color flowers. 
Simple Aesthetic Greenery Decoration for Haldi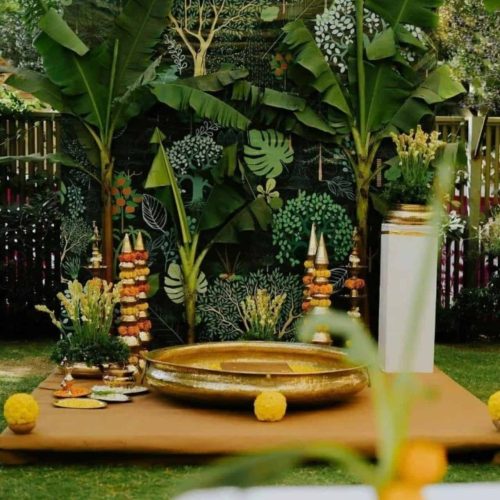 This decoration is well-known in a part of the southern area where these peoples are likely to add more dark greenery and some flavor of orange and white flowers. This will provide a unique look where all types of plants are used and Urli are placed to set up the complete decoration. These Haldi Decoration Ideas will provide an aesthetic look that glances at the beauty of greenery. It is optional, if you want more elements in your decoration you can add some colorful flowers on the overhead. 
Welcome Aisle With Yellow Flowers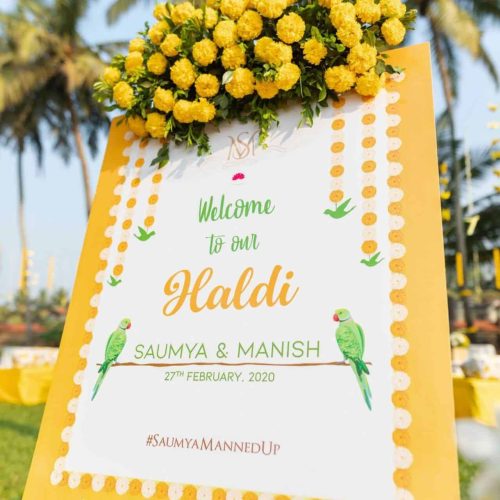 Oh yes! It can also be a part of your haldi decoration to add some fun. This decoration idea for your haldi function instantly set a cheerful and inviting tone for the event's guests. Make sure these will be placed thoughtfully to add a touch of natural's beauty. This welcome aisle can also be personalized to your preference. It will create a customized welcome sign with the couple's name and heartfelt message. We can add personalized tags to the backs of the chair along with the aisle, that feature the names of couples. Also, the framed photographs can be on the welcome aisle to demonstrate the couple's journey together. 
Traditional Haldi Decoration Ideas With Full of Marigold Flowers 
Simple decoration full of marigold flowers that include dominant shades of orange and yellow is an ideal choice and always provides a traditional look to couples. It can be decorated with a lot of orange and marigold flowers. Also, it will leave with a beautiful fragrance that helps to create a soothing and fresh environment. A hanging swing that is fully adorned with marigold garland, can be made for interactive and playful touch. It will provide a unique seating option for the bride and groom. 
Eco-Friendly Haldi Decoration
This decoration is to be held with banana leaves where the leaves are set to be as a Haldi Background Decoration. And with the use of yellow, white, red, and orange flowers, they are to be decorated. This haldi decoration ideas is the perfect choice for those who want fresh surroundings. By adding this to your wishlist, you can take experience the most fresh feel. As we know how the greenery looks and to be felt. This eco-friendly decoration is also done with local flowers and foliage. You can also add a welcome haldi board to give a message about the haldi celebration.
Balloon Decoration For Haldi Ceremony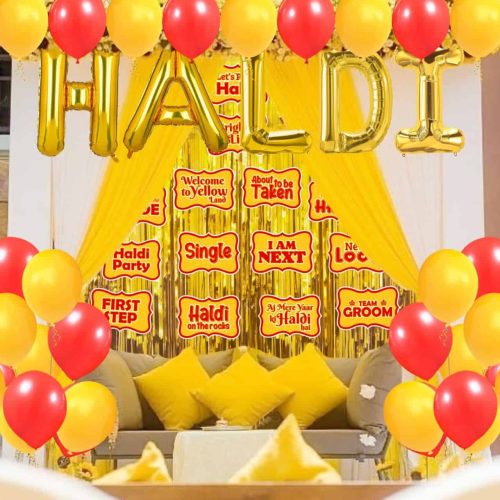 This balloon decoration for the Haldi ceremony helps to create a remarkable backdrop using balloons in the color palette of your choice. These balloons are filled with flowers and also enchanted with floral arrangements. We can incorporate balloons with sweet and meaningful thoughts related to love and marriage. We can also hang balloon garlands from the ceiling to add visual interest and a sense of height to the venue. By incorporating these ideas, you can create a visually appealing and joyful ambiance that resonates with the spirit of celebration. 
Kites Decoration
This amazing haldi decoration ideas is an amazing decoration that is to be decorated with kites of a multicolor. These kites are to be designed first very well with beads, stones, laces, and mirror stones. This will provide a sophisticated look to the couple. This multi-colored kite looks too great with the utmost pastel colors of yellow and white shades. Also, the flowers hanging also be tied in the background area to create a more authentic look for picture clicks. The yellow flower string covers the overall background and the kites will increase their show.
Conclusion
We know that you read all the mentioned haldi decoration ideas, and you understand what should you pick for your haldi ceremony. These ideas of haldi decoration offer an enchanting tapestry of creativity and tradition, that blend together to create unforgettable moments. Whether it's the vibrancy of marigold garlands, the elegance of earthy hues, or the intricate play of rustic charm, each concept brings its own charm to this cherished pre-wedding ritual. By embracing diverse haldi decoration ideas, we not only adorn the surroundings but also envelop the occasion with the spirit of joy, love, and cultural richness. 
FAQs:-
Here are the some following queries that are asked by many users related to Haldi Decoration Ideas:-
Top 25 Eye-Catchy Haldi Decoration Ideas for Every Wedding Style