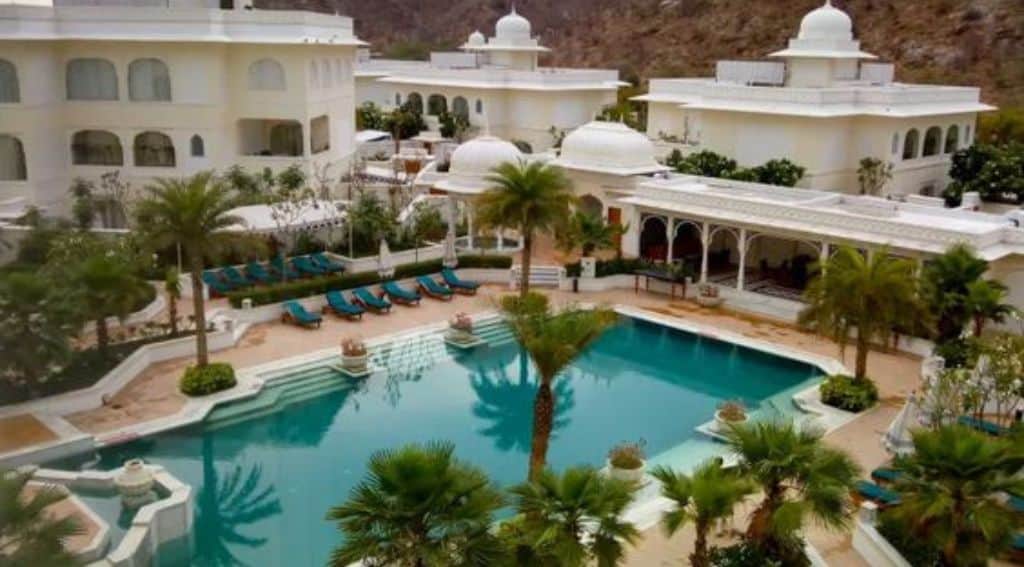 Jaipur Marriott
About Jaipur Marriott Hotel
The Jaipur Marriott Hotel Stands as a symbol of luxury, grandeur, and flawless hospitality. It is situated in Ashram Marg, near Jawahar Circle in Jaipur. It offers 1,00,000 sq ft. of whole land which we can use for our wedding theme. The Jaipur Marriott is known for its stunning architecture, world-class amenities, and unparalleled services, this exquisite hotel has carved a niche for itself as a prime wedding destination in Jaipur, India. 
The hotel's regal ambiance is a seamless blend of traditional Rajasthani charm and contemporary elegance. If an indoor celebration is your preference, the hotel boasts ideally designed banquet halls that can be customized to match your wedding theme and size. From intimate gatherings to lavish galas, these versatile spaces have the capacity to transform your vision into reality.
The Jaipur Marriott Hotel stands as a testament to luxury and elegance, making it an ideal wedding destination in the vibrant city of Jaipur because of its majestic architecture, diverse venues, delectable cuisine, and impeccable service that offers an unforgettable experience that blends modern opulence with the rich cultural heritage of Rajasthan. Whether choosing the Jaipur Marriott Hotel as your wedding venue promises to create cherished memories that will be etched in the hearts of you and your guests for a lifetime. 
Areas Availability
Sapphire with 400 seating and 800 floating.

Ruby, has 600 seating and 800 floating.

Amber with 100 seating and 130 floating.

There is diamond 1 with 150 seating and 200 floating.

Diamond 2 has 80 seating and 125 floating.

Quartz with 50 seating and 70 floating.

Diamond 3 with the capability of 80 seating and 125 floating.

Coral with 10 seating and 12 floating.

Topaz has 10 seating and 12 floating.

There is a poolside with 125 seating and 200 floating.
Facilities and Services Offered
The Jaipur Marriott Hotel is the one whose services are a perfect mixture of luxurious and cultural wedding that has been made everyone's desire. From planning pre-wedding functions to arranging the main event and taking care of post-wedding festivities, the experienced team at Jaipur Marriott Hotel ensures that your special day is stress-free and utterly memorable. 
This hotel provides a wide range of varieties of food and beverages. For those seeking a dream wedding, the Jaipur Marriott Hotel offers a superfluity of breathtaking venues that cater to every notion and desire. The hotel's dedication to hospitality is reflected in its exceptional service where the staff is trained to anticipate your needs and provide you personalized attention, ensuring that every aspect of your wedding celebration is flawlessly executed. 
Info
Address- Ashram Marg, Near, Jawahar Circle, Jaipur, Rajasthan 302015
Operated Since- 2011
No. Of rooms at Jaipur Marriott – 365 rooms
Rating- 4.5/ 5