Best Wedding Hotels in Jaipur
Do you wish to have a fairy tale wedding that everyone will remember forever? The Pink City of India, Jaipur, has swiftly become popular for spectacular vacations and unforgettable destination weddings. Besides this, there is no shortage of Five Star Wedding Hotels in Jaipur that offer discounts.
Your wedding will be a genuine royal celebration in the perfect blend of history and modernity of Jaipur due to the city's rich culture and majestic forts and palaces. Discover the most fabulous Luxury Wedding Hotels in Jaipur and learn why this city is the perfect place for a destination wedding.
Find the most beautiful Jaipur Wedding Venues with the help of Star Wedding & Event Solutions. We can help you plan a Destination Wedding in Jaipur that is fit for you, with a wide variety of venues available, from palaces to five-star hotels.
If you are going to arrange a destination wedding, you can count on us to decorate the venue with glittering chandeliers, gorgeous red carpets, and golden touches. In addition, we can arrange for you to stay at the finest Jaipur Wedding Hotels, which serve as a picture-perfect backdrop for your nuptials. As the top Jaipur wedding planners, Star Wedding & Event Solutions is responsible for reserving the most impressive Jaipur wedding halls.
Why is Destination Weddings are trendy in Jaipur?
Destination weddings have been increasingly common in recent years as newlyweds look to differentiate their big day from others. Some of the world's most breathtaking Hotels can be found in Jaipur, making it an ideal location for a wedding. The stunning scenery, ornate decor, and historic charm of these venues make for stunning wedding images. You can have a dream wedding at one of the top Wedding Hotels in Jaipur at affordable rates. These Hotels offer it all, from stunning settings to delicious dining options.
The best Wedding Hotels in Jaipur can welcome you. Our list includes both central Jaipur areas and quiet, five-star Hotels in the countryside. When it comes to wedding venues in Jaipur, Star Wedding & Event Solutions is among the top choices. If you are looking for a beautiful and small wedding venue in Jaipur, go beyond our top wedding Hotels.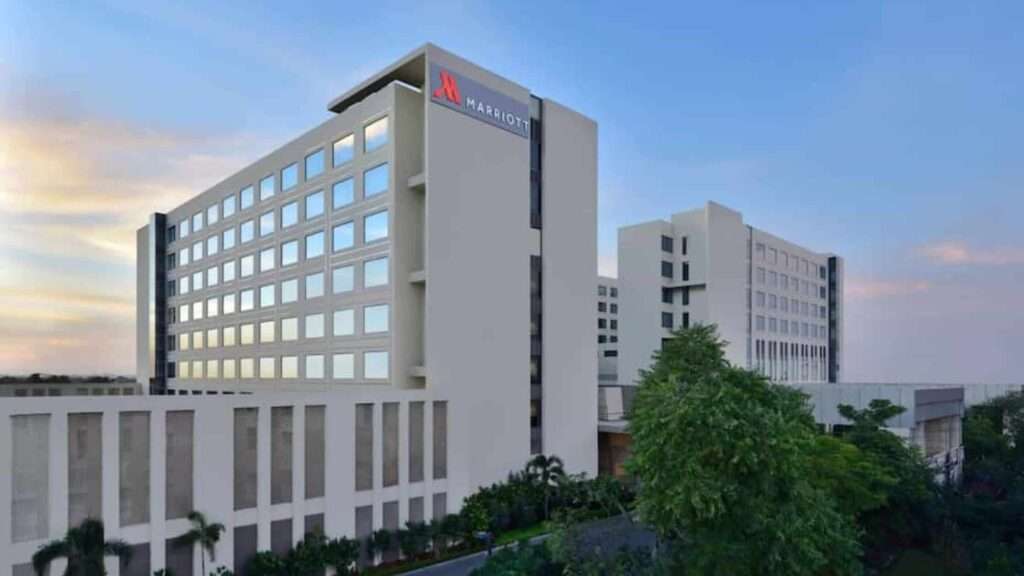 Where to Find Affordable Lavish Hotels for Weddings in Jaipur
Several Hotels in Jaipur are available to choose from on the Star Wedding & Event Solutions website. Our criteria will help you find the best wedding venue for you. 
You can have your wedding in such places as Raja Park or Mansarovar. In addition, you can research the many Jaipur places and pick the one most accessible for you. Consider the needs of all your VIPs and guests as you select.
The next available filter is the cost per plate one. You may sort through everything on offer and keep only the items that work with your spending plan. In Jaipur, the pricing range for a single-plate filter is between INR 600 and INR 3500. Choose the cost that comes closest to fitting within your wedding budget. 
The number of expected guests will dictate the filter selection. The filter has a range of 0–200, 201–200, 301–500, and 501-700. Select the grouping that best describes your guest list. Select 100-200 for an intimate wedding with close family and friends or "700-1000" for a grand celebration with thousands of guests. 
You can now move on with your wedding venue selection without any further restrictions. You can have your dream wedding reception at any location, be it a farmhouse, community hall, banquet hall, or lawn. Multiple venues are available, such as mandaps, farmhouses, lawns, marriage or community centers for your dream wedding.
Why are Jaipur Hotels the Best Choice for Weddings?
Any of Jaipur Hotels would be an ideal location for a wedding. The hotel introduces all the amenities. Travelers can pick their hotel rooms based on their financial capabilities. The hotel's staff is just as pleasant to interact with as the guests.
Location lists from Star Wedding & Event Solutions for weddings in Jaipur are celebrated with just the right amount of class and energy. Book one of Jaipur's most sought-after wedding venues and plan the wedding of your dreams! Use the "Star method" to tie the knot.