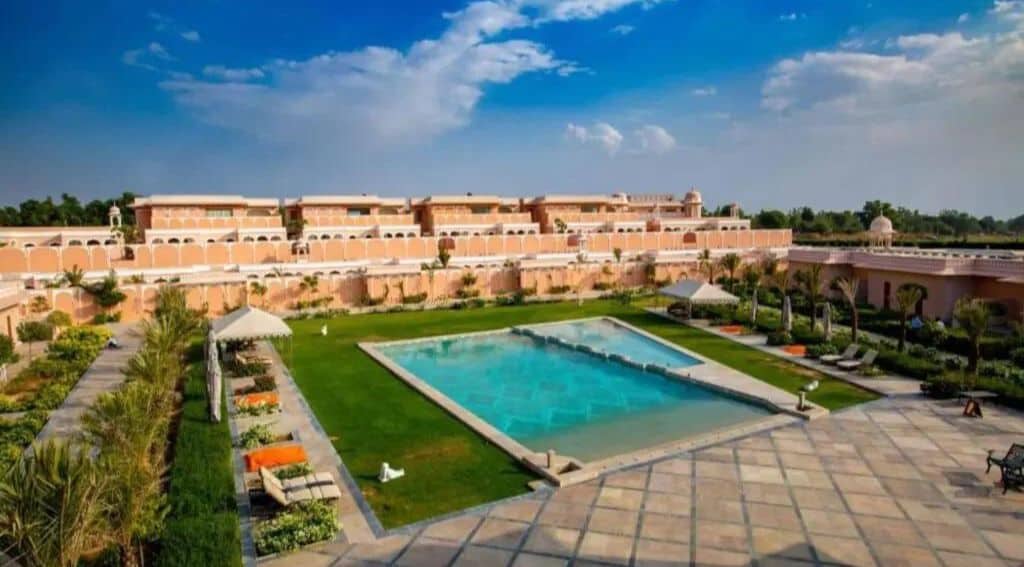 Buena Vista Luxury Resort
About Buena Vista Luxury Resort in Jaipur
The Bueno Vista Resort is a magnificent haven of comfort and peace. This magnificent resort offers a seamless fusion of modern luxury and traditional Rajasthani charm and is located in the heart of Rajasthan, India. It has a 7-acre footprint. This resort is 12 km away from Jaipur and 20 km from Jaipur international airport. The resort offers a selection of luxury lodging options to suit different tastes and requirements. 
Every visitor is guaranteed a comfortable and opulent stay at Bueno Vista, which offers a variety of accommodations, including expansive rooms decorated with intricate Rajasthani artwork and opulent suites with panoramic views of the surrounding area. Visitors are taken on a gastronomic tour of Rajasthan and other countries by Bueno Vista Resort.  
The resort is the perfect location for weddings, business events, and social gatherings thanks to its spacious and well-designed event space whether it's a small gathering or a large one. The fascinating forts, bustling markets, and architectural wonders that make Jaipur such a desirable destination are easily accessible to visitors. 
Areas Availability
There is a cerenate lawn having 600 seatings and 1000 floating capabilities.

Zen Lawn also includes that resort's area, having 700 seating and 1200 floatings.

Concorde banquet hall is available by including 140 seatings and 180 floatings.

The pool lawn has 200 seatings and 300 floatings.
Facilities and Services Offered
By giving a long-lasting smile on guests' faces, there is a reason behind that they opted services that they want to opt for. By providing the best services will their full-fledged capability, Bueno Vista Resort leaves a great impression on the guest and is known to be the best in the resort. 
Although Bueno Vista Resort offers a world of luxury on its grounds, it is impossible to overlook the resort's close proximity to Jaipur's famous landmarks. The welcoming and attentive hospitality of Bueno Vista Resort is at the heart of its appeal. The staff's commitment to providing great service and individualized attention to each client is demonstrated by their readiness to go above and beyond.
Info
Address- Delhi – Jaipur Expy, Kunda, Pilli Ki Talai, Jaipur, Rajasthan 302028
Operated Since- 1958
No. of rooms at Buena Vista Luxury Resort- 52 Rooms
Rating- 4.4/ 5